Home

order

supplements

digestive aids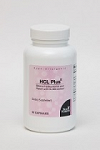 HCL V-Plus
HCL V-Plus is designed to provide digestive support via supplemental Betaine Hydrochloride, as optimum gastric pH is required for the complete digestion of proteins and absorption of vital nutrients in the diet.
Combined with an all-vegetarian herbal and enzyme blend of Gentian root, Protease 3.0 (aspergillus niger), and Lipase (aspergillus niger) along with Vitamin B1 as a metabolizing synergist, this enhanced pH-stable formula provides for added digestive support in the stomach.
• Hypo-Allergenic, betaine hydrochloride and gentian with acid-stable digestive enzymes, Vegetarian Formula
One Tablet Supplies

Thiamine (as thiamine hydrochloride)
1 mg
Betaine (as betaine hydrochloride)
450 mg
Gentian Root (Powder)
100 mg
Protease 3.0 (Aspergillus niger) (2,000 SAPU/g)
50 mg
Lipase (Aspergillus niger) (10,000 FIP/g)
40 mg
Other Ingredients
Cellulose, Stearic Acid, Crosscarmellose Sodium, Magnesium Stearate, Silica
Nutritional Activity
Normal acidity of the stomach is required to ensure solubility of minerals for optimum absorption. For instance, without sufficient levels of HCL, iron absorption is significantly reduced. HCL is required for normal protein digestion by converting pepsinogen to the active protein-splitting enzyme, pepsin. HCL deficiency is a leading contributor to indigestion in the elderly.
Note:
Does not contain: shellfish, fish, dairy, tree nuts, peanuts, wheat, soy, gluten, yeast, alfalfa, artificial colors, flavors, or preservatives.
Suggested Usage
1 tablet 3 times daily during or immediately after meals
Digestive Aids Supplements Info

Trace Nutrients Digestive Aids have been specially formulated to work with your

hair analysis

health program.
Trace Nutrients Supplements only available in the United States / Canada

Online orders for Trace Elements Supplements can only be sent to the United States, due to customs, duties and shipping calculations that our online store does not process.

If you reside in Canada, please
Contact Us
for ordering information.
Still Have Questions?
Please contact us with your inquiries (Monday - Friday: 8am - 4pm PST).