Home

order

supplements

glandulars
* Discontinued Notice *
Sep 12, 2017
Trace Elements Inc has recently updated this supplement.
The newly updated Sym-Pack III formula has been upgraded to offer the same benefits and ingredients as Sym-Pack II and Thymus Complex combined.
Visit the Sym-Pack III page for the upgraded supplement formula.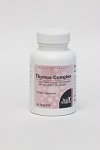 Thymus Complex
| | | | | |
| --- | --- | --- | --- | --- |
| Item#: 225 | 90 Tablets | $13.20 | Qty: | |
Item#: 225-B
180 Tablets
$24.20
Qty:

*

Visit the Sym-Pack III page for the upgraded supplement formula.
Thymus Complex contains a high concentration of lyophilized thymus tissue concentrate in combination with pure vitamins and chelated minerals.
• Hypo-Allergenic, Lyophilized Adrenal Concentrate with Synergistic Co-Factors
One Tablet Supplies

Vitamin B12 (as cyanocobalamin)
3 mcg
Pantothenic Acid (as d-calcium pantothenate)
10 mg
Magnesium (as TRAACS® magnesium bisglycinate chelate buffered†)
10 mg
Copper (as TRAACS® copper bisglycinate chelate†)
500 mcg
Whole Thymus Glandular (bovine)
100 mg
Other Ingredients
Cellulose, Stearic Acid, Magnesium Stearate, Vanilla Bean Extract, Silica
Nutritional Activity
Thymus Complex provides the body with specific nutritional factors that will encourage the reduction of excessive sympathetic endocrine and central nervous system activity. In addition, the nutrients found in Thymus Complex will assist the fast metabolic individual experiencing lowered activity of the thymus and reticulo-endothelial system, by supplying the nucleoproteins and co-factors necessary to increase resistanceand immune response.
Note:
Glandular nucleoproteins have been used therapeutically for many years in the health care field. Clinical response continues to confirm the efficacy of appropriate glandular therapy in many phases of nutrition.
Suggested Usage
1 supplement 3 times daily with meals
Glandulars Supplements Info

Trace Nutrients™ glandular products have been designed to provide a high concentration of glandular nucleoproteins in combination with bio-enhancing vitamins and chelated minerals. These unique formulas contain only those nutritional factors which, though their synergistic action, will enhance absorption and utilization of the glandular nucleoproteins. These natural and highly effective formulas thereby assist in restoring and normalizing the specific glandular response and related functions.

Trace Nutrients™ glandular concentrates are processed using the preferred lyophilization method in order to assure retention of the desirable nutritional factors.

Lyophilization is the chemical-free process of concentration the glandular material below freezing temperature to minimize molecular reaction, thus ensuring the maximum availability of the specific proteins, enzymes, nucleic acids and other naturally occurring nutrients contained within the raw glandular tissue. Utilization of this superior process assures you that all of Trace Nutrients™ glandular material is both solvent free and the best concentrated sources available.

Trace Nutrients Glandulars have been specially formulated to work with your

hair analysis

health program.
Trace Nutrients Supplements only available in the United States / Canada

Online orders for Trace Elements Supplements can only be sent to the United States, due to customs, duties and shipping calculations that our online store does not process.

If you reside in Canada, please
Contact Us
for ordering information.
Still Have Questions?
Please contact us with your inquiries (Monday - Friday: 8am - 4pm PST).