Home

order

supplements

metabolic packs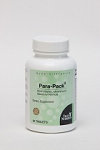 Para-Pack III™
Para-Pack is the original multi-nutrient formulation designed to provide highly specific nutritional support. Organic mineral chelates, pure vitamins, lyophilized glandular concentrates and other complementary nutritional factors are synergistically combined to maximize intestinal absorption and metabolic utilization.
• Hypo-Allergenic, Multi-Vitamin, Mineral and Glandular Formula
One Tablet Supplies

Vitamin A (as palmitate and 50% as beta carotene)
2000 IU
Vitamin C (as ascorbic acid)
60 mg
Vitamin E (as d-alpha tocopheryl succinate)
30 IU
Thiamine (as thiamine hydrochloride)
1.5 mg
Niacin (as niacinamide and 33% as niacin)
20 mg
Vitamin B6 (as pyridoxine hydrochloride)
2 mg
Folic Acid (as (6S)-5-methyltetrahydrofolic acid)
25 mcg
Biotin
75 mcg
Pantothenic Acid (as d-calcium pantothenate)
10 mg
Iodine (from kelp)
100 mcg
Zinc (as TRAACS® zinc bisglycinate chelate†)
1 mg
Selenium (as L-selenomethionine)
20 mcg
Manganese (as TRAACS® manganese bisglycinate chelate†)
1 mg
Potassium (from potassium gluconate and 50% as potassium glycinate complex)
10 mg
Citrus Bioflavonoid Complex (citrus aurantium L.)
50mg
Inositol
25 mg
Betaine (as betaine hydrochloride)
20 mg
Tyrosine (as L-tyrosine)
10 mg
Lysine (as L-lysine HCL)
10 mg
L-Glutamic Acid
10 mg
L-Serine
5 mg
Pyruvate (as calcium pyruvate)
5 mg *
Whole Adrenal Glandular (bovine)
5 mg *
Whole Pituitary Glandular (bovine)
5 mg *
Whole Parotid Glandular (bovine)
5 mg *
Other Ingredients
Cellulose, Stearic Acid, Crosscarmellose Sodium, Magnesium Stearate, Silica
** Lyophilized Glandular - Tissue concentrate processed at below freezing temperature to insure maximum availability of biologically active nutrients.
Nutritional Activity
Para-Pack provides those nutrients most needed by the slow metabolizer. It is designed to promote a sympatho-mimetic effect, support cellular oxidation and energy production, and quench free radical generation within the cytoplasm. Optimal nutritional support aids in increasing the metabolic rate which is necessary for glucose control, detoxification, normalization of neuroendocrine activity and support of the humoral immune response.
Note:
Does not contain: shellfish, fish, dairy, tree nuts, peanuts, wheat, soy, gluten, yeast, alfalfa, artificial colors, flavors, or preservatives.
Parasympathetic Dominance is synonymous with Slow Metabolism, Slow Oxidation and Type B Personality.
Suggested Usage
1-2 tablets 3 times daily with meals
† Albion®, TRAACS®, DimaCal® and the Albion Medallion design are registered trademarks of Albion Laboratories, Inc. The Albion Gold Medallion individually awarded signifies excellence in mineral nutrition and for providing the highest quality in mineral absorption and utilization with Albion® pharmaceutical grade, verified organic amino acid chelates. Chelates covered by Albion U.S. Patent 7,838,042. Malate covered by Albion U.S. Patent 6,706,904.
Metabolic Packs Supplements Info

Stressors, whether physiological or psychological, will normally provoke a specific reaction of the autonomic nervous and endocrine systems, termed sympathetic and parasympathetic, which in turn will increase or decrease certain nutritional requirements. Awareness of these factors has resulted in very powerful metabolic formulations that fulfill, for the first time, the nutritional requirements of these evoked responses in accordance with individual metabolic needs.

Trace Nutrients™ metabolic packs were designed to meet the exacting requirements of sympathetic over-activity (

Sym-Pack

) and parasympathetic dominance (

Para-Pack

). These formulations, researched and developed by Dr. David L. Watts in the early 1980s, and continually being improved, are still the only metabolic products available that are precisely appropriate for anabolic and catabolic support.

Trace Nutrients Metabolic Packs have been specially formulated to work with your

hair analysis

health program.
Trace Nutrients Supplements only available in the United States / Canada

Online orders for Trace Elements Supplements can only be sent to the United States, due to customs, duties and shipping calculations that our online store does not process.

If you reside in Canada, please
Contact Us
for ordering information.
Still Have Questions?
Please contact us with your inquiries (Monday - Friday: 8am - 4pm PST).