Home

order

supplements

vitamins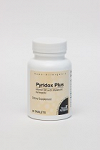 Pyridox Plus
Vitamin B6 with Pyridoxal-5 Phosphate and Metabolic Synergists
Pyridox Plus is a highly effective formulation based upon recognized bio-nutrient interrelationships and thorough clinical research. This product's carefully selected combination of nutrients - including pyridoxal-5 phosphate - is of particular value in potentiating the effect of vitamin B6, the primary nutrient.
• Hypo-Allergenic, Vitamin B6 with Pyridoxal-5 Phosphate and Associated Metabolic Synergists, Vegetarian Formula
One Tablet Supplies

Thiamine (as thiamine hydrochloride)
1.5 mg
Vitamin B6 (as pyridoxine hydrochloride)
100 mg
Manganese (as TRAACS® manganese bisglycinate chelate†)
1 mg
P5P (pyridoxal-5-phosphate)
1 mg
Other Ingredients
Cellulose, Stearic Acid, Magnesium Stearate, Silica
Nutritional Activity
Vitamin B6 (pyridoxine HCL) is a metabolic stimulating vitamin that is intricately involved as a coenzyme in the metabolism of carbohydrates, fats and proteins. In addition to acting as a coenzyme in over forty enzymatic reactions, pyridoxine enhances the effects of vital nutrients, such as zinc, magnesium and other B complex vitamins.
Suggested Usage
1 supplement per day with a meal
Vitamins Supplements Info

Trace Nutrients Vitamins have been specially formulated to work with your

hair analysis

health program.
Trace Nutrients Supplements only available in the United States / Canada

Online orders for Trace Elements Supplements can only be sent to the United States, due to customs, duties and shipping calculations that our online store does not process.

If you reside in Canada, please
Contact Us
for ordering information.
Still Have Questions?
Please contact us with your inquiries (Monday - Friday: 8am - 4pm PST).