Home

order

supplements

vitamins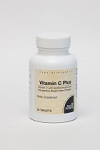 Vitamin C Plus
Vitamin C with Bioflavonoids and Manganese Bisglycinate Chelate
Vitamin C Plus contains an effective combination of ascorbic acid, bioflavonoids from rose hips and manganese amino acid chelate. This combination, as supported by research, will complement and potentiate the absorption and utilization of vitamin C. The starting source of Trace Nutrients vitamin C is the highest quality crystalline d-glucose, from which all corn and plant antigens or protein impurities have been eliminated through conversions, crystallization and other processing changes. The vitamin C undergoes approximately 900 analytical and quality control checks during the conversion of d-glucose to l-ascorbic acid to ensure the highest purity and consistent quality vitamin available.
• Hypo-Allergenic, Vitamin C with Bioflavonoids and Manganese AAC as a Synergist, Vegetarian Formula
One Tablet Supplies

Vitamin C (as ascorbic acid)
500 mg
Manganese (as TRAACS® manganese bisglycinate chelate†)
1 mg
Bioflavonoids (citrus/rosehips (fruit) blend)
100 mg
Other Ingredients
Cellulose, Stearic Acid, Magnesium Stearate, Silica
Nutritional Activity
Vitamin C has many functions within the body; the most widely recognized function is its role in collagen formation, integrity and detoxification. It acts as a synergist in the absorption and metabolic utilization of such minerals as calcium, iron and copper. Vitamin C also aids in enhancing the production of the adrenal medullary hormones and is involved in many important enzyme reactions.
Suggested Usage
1 supplement per day with a meal
Vitamins Supplements Info

Trace Nutrients Vitamins have been specially formulated to work with your

hair analysis

health program.
Trace Nutrients Supplements only available in the United States / Canada

Online orders for Trace Elements Supplements can only be sent to the United States, due to customs, duties and shipping calculations that our online store does not process.

If you reside in Canada, please
Contact Us
for ordering information.
Still Have Questions?
Please contact us with your inquiries (Monday - Friday: 8am - 4pm PST).