Home

order

supplements

vitamins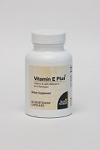 Vitamin E Plus II
Natural Vitamin E with Selenium as a Synergist
Vitamin E PlusII contains natural d-alpha tocopheryl and selenium (added as an absorptive and metabolic synergist). Available in 2-piece hard-shell vegetable capsules, Vitamin E PlusII yields a high potency E more easily utilized by many individuals than the oil-form available in many vitamin E soft-gelatin capsule products.
• Hypo-Allergenic, Natural Vitamin E with Selenium AAC as a Synergist
One Capsule Supplies

Vitamin E (as d-alpha tocopheryl)
200 IU
Selenium (as L-selenomethionine)
50 mcg
Other Ingredients
Gelatin, Natural Glycerine and Purified Water
Nutritional Activity
Vitamin E Plus was designed to deliver the maximum potential of bio-available d-alpha tocopherols. Vitamin E is a very effective anti-oxidant vitamin that, among other functions, will prevent the pituitary and adrenal hormones from being oxidized. Vitamin E also plays an essential role in cellular respiration. In addition to complementing each other's absorption, vitamin E and selenium share several biochemical functions, including the reduction of free radical formation in the body.
Note:
Encapsulated in 100% natural, preservative free, hard gelatin capsules.
Suggested Usage
1 supplement per day with a meal
Vitamins Supplements Info

Trace Nutrients Vitamins have been specially formulated to work with your

hair analysis

health program.
Trace Nutrients Supplements only available in the United States / Canada

Online orders for Trace Elements Supplements can only be sent to the United States, due to customs, duties and shipping calculations that our online store does not process.

If you reside in Canada, please
Contact Us
for ordering information.
Still Have Questions?
Please contact us with your inquiries (Monday - Friday: 8am - 4pm PST).