Home

order

supplements

combination formulas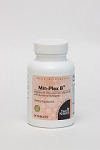 Min-Plex B™
This product is a convenient and cost-saving combination of the products: Magnesium Plus, GT-Formula and Pyridox Plus.
• Hypo-Allergenic, Vegetarian Formula
One Tablet Supplies

Thiamine (as thiamine hydrochloride)
1.5 mg
Niacin
2 mg
Vitamin B6 (as pyridoxine hydrochloride)
25 mg
Magnesium (as Albion® di-magnesium malate, TRAACS® magnesium bisglycinate chelate buffered†)
100 mg
Manganese (as TRAACS® manganese bisglycinate chelate†)
1 mg
Chromium (as TRAACS® chromium nicotinate glycinate chelate†)
200 mcg
Glycine (as L-glycine HCL)
10 mg
Glutamic Acid (as L-glutamic acid)
5 mg
Cysteine (as L-cysteine)
3 mg
P5P (pyridoxal-5-phosphate)
0.5 mg
Other Ingredients
Cellulose, Stearic Acid, Magnesium Stearate, Silica
Suggested Usage
1 supplement per day with a meal
† Albion®, TRAACS®, DimaCal® and the Albion Medallion design are registered trademarks of Albion Laboratories, Inc. The Albion Gold Medallion individually awarded signifies excellence in mineral nutrition and for providing the highest quality in mineral absorption and utilization with Albion® pharmaceutical grade, verified organic amino acid chelates. Chelates covered by Albion U.S. Patent 7,838,042. Malate covered by Albion U.S. Patent 6,706,904.
Combination Formulas Supplements Info

These products have been formulated in order to minimize the number of individual supplements a patient on the metabolic regimen may require. These products provide both convenience (less tablets) and cost-savings to the patient as well as improving compliance. Trace Nutrients combination formulas provide the same quality vitamins, minerals, herbs, amino acids, enzymes and other cofactors as the original single products.

Trace Nutrients Combination Formulas have been specially formulated to work with your

hair analysis

health program.
Trace Nutrients Supplements only available in the United States / Canada

Online orders for Trace Elements Supplements can only be sent to the United States, due to customs, duties and shipping calculations that our online store does not process.

If you reside in Canada, please
Contact Us
for ordering information.
Still Have Questions?
Please contact us with your inquiries (Monday - Friday: 8am - 4pm PST).